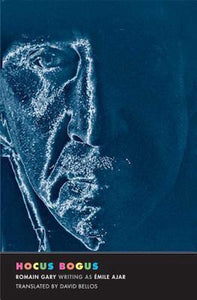 Hocus Bogus (Pseudo)
Regular price
$25.00
$0.00
Unit price
per
Author: Romain Gary (writing as Émile Ajar)
Translator: David Bellos
Publisher: Yale University Press (2010)
By the early 1970s, Romain Gary had established himself as one of France's most popular and prolific novelists, journalists, and memoirists. Feeling that he had been typecast as "Romain Gary," however, he wrote his next novel under the pseudonym Émile Ajar. His second novel written as Ajar, Life Before Us, was an instant runaway success, winning the Prix Goncourt and becoming the best-selling French novel of the twentieth century.
The Prix Goncourt made people all the keener to identify the real "Émile Ajar," and stressed by the furor he had created, Gary fled to Geneva. There, Pseudo, a hoax confession and one of the most alarmingly effective mystifications in all literature, was written at high speed. Writing under double cover, Gary simulated schizophrenia and paranoid delusions while pretending to be Paul Pawlovitch confessing to being Émile Ajar—the author of books Gary himself had written.
In Pseudo, brilliantly translated by David Bellos as Hocus Bogus, the struggle to assert and deny authorship is part of a wider protest against suffering and universal hypocrisy. Playing with novelistic categories and authorial voice, this work is a powerful testimony to the power of language—to express, to amuse, to deceive, and ultimately to speak difficult personal truths.
---