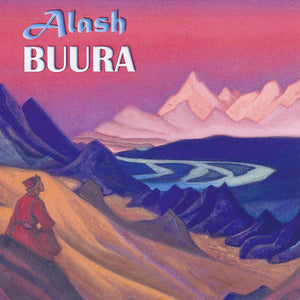 Buura
Regular price
$12.00
$0.00
Unit price
per
Author: Alash Ensemble
Publisher: Alash Ensemble (2011)
Buura is Alash's second studio album. Since the first album, Alash has traveled many miles and played lots of music for lots of people. During these travels, the music of Alash has simultaneously grown towards the future and deepened its hold on the past, like a healthy tree which deepens its roots in the earth while reaching for the sun.
Listening to Alash's music, it is not always easy to delineate where the roots end and the branches begin. In a song like "Kosh-oi and Torgalyg," non-Tuvan instruments (the guitar and the udu, an African drum) clearly signal the influence of other musics. But where can you place a piece like Ayan Shirizhik's solo on the murgu (Tuvan overtone flute), which sounds both ancient and avant-garde?
For Alash, "fusion" means more than simply blending Tuvan music with other musics, although the group enjoys such collaborations and they are often very successful. Alash has a way of bringing foreign musical ideas into their songs without losing the sound and feel of the music of their Tuvan ancestors. Their growth is truly organic as they extend a unique living tradition into the future.
Credits:
Executive Producer: Sean Quirk
Recorded and mixed by Richard Battaglia at VixMix, Nashville, TN
Mastered by Jim DeMain of Yes Master Studios, Nashville, TN
Cover: detail from "Song of Shambhala" (1943) by Nicholas Roerich, courtesy of State Museum of Oriental Art in Moscow
Cover photo of Alash by Johanna Kovitz
Photos of individual Alash musicians by Peter Hasslebach
---