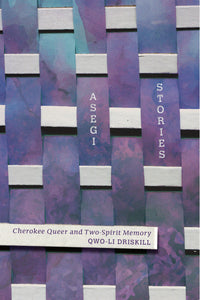 Asegi Stories: Cherokee Queer and Two-Spirit Memory
Regular price
$29.95
$0.00
Unit price
per
Author: Qwo-Li Driskill
Publisher: University of Arizona Press (2016)
In Cherokee Asegi udanto refers to people who either fall outside of men's and women's roles or who mix men's and women's roles. Asegi, which translates as "strange," is also used by some Cherokees as a term similar to "queer." For author Qwo-Li Driskill, asegi provides a means by which to reread Cherokee history in order to listen for those stories rendered "strange" by colonial heteropatriarchy.

As the first full-length work of scholarship to develop a tribally specific Indigenous Queer or Two-Spirit critique, Asegi Stories examines gender and sexuality in Cherokee cultural memory, how they shape the present, and how they can influence the future.

The theoretical and methodological underpinnings of Asegi Stories derive from activist, artistic, and intellectual genealogies, referred to as "dissent lines" by Maori scholar Linda Tuhiwai Smith. Driskill intertwines Cherokee and other Indigenous traditions, women of color feminisms, grassroots activisms, queer and Trans studies and politics, rhetoric, Native studies, and decolonial politics. Drawing from oral histories and archival documents in order to articulate Cherokee-centered Two-Spirit critiques, Driskill contributes to the larger intertribal movements for social justice.
Lambda Literary Award Finalist
---