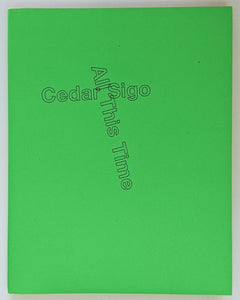 All This Time (Hardcover)
Regular price
$35.00
$0.00
Unit price
per
Author: Cedar Sigo
Publisher: Wave Books (2021)
The newest collection from Cedar Sigo, All This Time, pays homage to artistic influences that have shaped his poetic practices. Lyrical and haunted, these poems call attention to the experience of living as an embodiment of art, reminding the reader that poetry is like an open-air structure; it is open to all who are curious enough to welcome everything in.
"Cedar Sigo is a Frank O'Hara for the 21st century: witty, erudite, serious, with a terrific ear & eye for the minutest details, at home in the world of the arts."

–Ron Silliman
"Sigo, whose work is in conversation with poets such as Wieners, Jack Spicer, and Eileen Myles, as well as an array of visual artists and musicians, succeeds in creating an intertextual collection that is as rich as the many sources of inspiration from which it draws."

–Bethany Prosseda
"[His] poems seem at once contemporary and antiquated, totally alien and uncannily familiar, so that they operate with a realm of uncertainty where any movement the poem makes is charged with potential."

–Ben Mirov
---