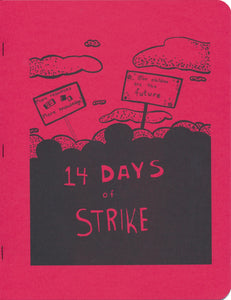 14 DAYS OF STRIKE
Regular price
$5.00
$0.00
Unit price
per
Authors: Marc Fischer / Public Collectors and Katy Jung, Alma Tapia, Maria Tapia, Jesse Salgado, Iridian Martinez, Leslie Carreno, Jadalis Nuñez, Blanca Velazco, Isabel Flores and Mireya Fuentes
Publisher: Public Collectors (2019)
Edition of 245
14 DAYS OF STRIKE presents a discussion about the 2019 Chicago Teachers Union strike with six students at North-Grand High School (NGHS).
"There are approximately 36,000 teachers working in Chicago Public Schools (CPS). They are represented by the Chicago Teachers Union (CTU). In June 2019, the CTU's contract with Chicago Public Schools expired and a contract dispute emerged. While pay was one of the issues included in the dispute, a call for reduced class sizes, and an increase in support staff like nurses, social workers and librarians were a major part of the union's demands. The strike lasted 14 days—from October 17-31, 2019.

Chicago Arts Partnerships in Education (CAPE) is an organization dedicated to developing, nurturing, and sustaining authentic partnerships between teaching artists and classroom teachers. CAPE partners with CPS to produce art programs that happen during school classes as well as after school. I work for CAPE, and North-Grand High School  teacher Katy Jung and I have been collaborating in a CAPE after school program at North-Grand for the past six years. Ms. Jung teaches math at the school—which is based in Chicago's Hermosa neighborhood—and I am a teaching artist.
When the CTU strike ended and school resumed on Friday, October 31st, many students did not attend. At North-Grand High School, only about half of the students showed up for class. On our first meeting at North-Grand after school resumed, we decided to have a conversation with the students about the Chicago Teachers Union strike. Student voices were almost completely absent from news reporting and social media posts that we observed about the strike. Also, we wanted to know what the students did during the eleven days that school was canceled during the strike. This was our first opportunity to hear what they had to say about their experience.
We met after school in Ms. Jung's classroom. The participants in this conversation were myself, Ms. Jung, and six students: Maria, Alma, Iridian, Blanca, Isabel and Mireya. The students are a mix of Sophomores and Juniors. Maria and Alma are sisters. We recorded this conversation on November 7, 2019.
This booklet presents that conversation, and is illustrated by the students that took part as well as others in the after school program."
–Marc Fischer
---