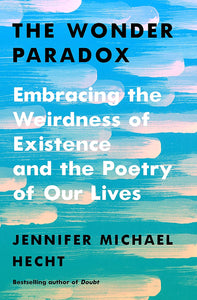 The Wonder Paradox: Embracing the Weirdness of Existence and the Poetry of Our Lives (Hardcover)
Regular price
$30.00
$0.00
Unit price
per
Author: Jennifer Michael Hecht
Publisher: Farrar, Straus and Giroux (2023)
Where do we find magic? Peace? Connection?

We have calendars to mark time, communal spaces to bring us together, bells to signal hours of contemplation, official archives to record legacies, the wisdom of sages read aloud, weekly, to map out the right way to live—in kindness, justice, morality. These rhythms and structures of society were all once set by religion. Now, for many, religion no longer runs the show.

So how then to celebrate milestones? Find rules to guide us? Figure out which texts can focus our attention but still offer space for inquiry, communion, and the chance to dwell for a dazzling instant in what can't be said? Where, really, are truth and beauty? The answer, says The Wonder Paradox, is in poetry.

In twenty chapters built from years of questions and conversations with those looking for an authen-tic and meaningful life, Jennifer Michael Hecht offers ways to mine and adapt the useful aspects of tradition and to replace what no longer feels true. Through cultures and poetic wisdom from around the world—Sappho, Rumi, Shakespeare, Issa, Tagore, Frost, Szymborska, Angelou, and others—she blends literary criticism with spiritual guidance rooted in the everyday. Linking our needs to particular poems, she helps us better understand those needs, our very being, and poetry itself.

Our capacity for wonder is one of the greatest joys of being human; The Wonder Paradox celebrates that instinct and that yearning.
"The Wonder Paradox is part practical, inspiring guide to meaning and connection, part love letter to poetry and the role it can play in our lives. Every page sings with beautiful sentences I couldn't help but underline. At the core of this book is something deeply true: poetry is for everyone. The Wonder Paradox is a book I'll gift to friends and family—to everyone—for years to come."
–Maggie Smith
"The Wonder Paradox leads its readers into the open space between the extremes of atheism and religious belief; here, spiritual insights that lie hidden in daily experience are released through secular rituals and the practice of poetry. In her lively, useful exploration of this middle zone, Jennifer Michael Hecht offers us a wakeful perspective, both timeless and germane to our times."

–Billy Collins
"The Wonder Paradox takes the reader by the hand and patiently, gently, and with great care introduces us to the delights, joys, and wisdom of poetry. If Jennifer Michael Hecht is starting a movement—sign me up! Finally, here is a party worth joining."

–Ilya Kaminsky

---