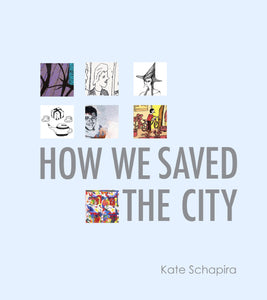 How We Saved the City
Regular price
$18.00
$0.00
Unit price
per
Author: Kate Schapira
Publisher: Stockport Flats (2012)
How We Saved the City examines gentrification, ghosts, and concurrent and successive cities in Kate Schapira's chosen home of Providence, RI. Through a range of formal strategies and imagined dialogues, these poems raise urgent and timely questions: who decides what a city and its people need? Who has power, in various forms, to make real their versions of the city and themselves? Racketeers, artists, criminals, activists, profiteers, and lovers cross and recross, build and rebuild the contested terrain of property, gender, habitation, and change.
"How We Saved the City is a brilliant investigative architectural blueprint of the social corpus. This charged document confronts the complexity of contradiction and struggle that bodies experience in their municipalities, ecosystems, and social interactions. Kate Schapira engages what is countenanced side by side with what is displaced, discarded and condemned as foregone conclusions, uncovering insidious, decisive, and/or illusive schematics underpinning culture. This is a charged book of great sensitivity and vision that picks up on the work of social theorists such as Avery F. Gordon, Zygmunt Bauman, and Susan Buck-Morss. An improvisational lyric mode parses entities barely presenced into a 'grammar ethical' of manifold proportion." 
–Brenda Iijima
"Divisions of the world fade into one another and once in awhile a poet comes along who can build a bridge to this magic for us. Kate Schapira is marvelous, precise, carefully introducing one ghost to another, 'pen the historically so / accumulation / will strangle them,' and one reader at a time to our ears. How We Saved the City is the kind of poetry I want in my life every time I read. Schapira's poetry is the world I want every part of my day." 
–CA Conrad
---