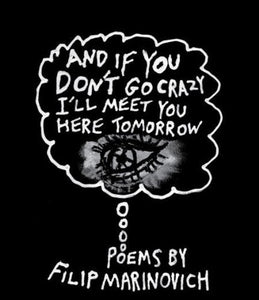 And If You Don't Go Crazy I'll Meet You Here Tomorrow
Regular price
$16.00
$0.00
Unit price
per
Author: Filip Marinovich 
Publisher: Ugly Duckling Presse (2011)
Filip Marinovich's second book spans the Otts, the outs, and many outposts. Travel with Filip and meet the phantoms of airplane chewing gum and beat on a drum with a Molotov cocktail.
"Full of smarts, which used to be called 'wisdom'. And here, now (thank goodness) takes on sharp shapes to disorient us to the depths."
–Richard Foreman
"What's happening? What is happening to me? The poems of Filip Marinovich, that's what! This book makes me cry, then laugh, it's awful, it's fantastic! Joy is in the movement he says and there is an inexplicable physicality between each word! Have you been here? Ever visit such a place? In one sitting you will read it and want every book to possess such tangential magic! I'm stupid with love for the genius of Filip Marinovich!"

–CAConrad
"Filip is not wailin. Oh no. He's just deliriously glad to be walking the tightrope between leaf and leaving, Corso, Mayakovsky and DiPrima and McClure. O'Hara too. Sound old? It's not. I couldn't stop reading his seductive devastation. It's an experienced text. I feel changed by Filip Marinovich tonight and if I heard him read this long poem tomorrow I'd feel changed again. He urges us all to make a mess, to stay foolishly alive across deaths and borders while splashing in a puddle of language. We get to do that? Yes! He proclaims, vehemently, author of such permissive verse, a dirty Dr. Seuss, endlessly capable of teaching us."

–Eileen Myles
---