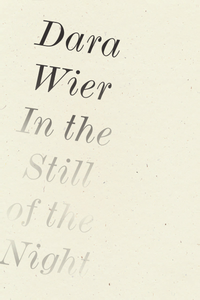 In the Still of the Night
Regular price
$18.00
$0.00
Unit price
per
Author: Dara Wier
Publisher: Wave Books (2017)
"That's how one human leaves us," ends the first poem of Dara Wier's startling new collection, a surprisingly raw and fluid exploration of grief. Wier records her thoughts with clarity and immediacy, showing us the unraveling and reconstruction of her world and consciousness after a significant loss.
"With her typical subtle and eloquent emotionality, Wier offers up harmonious meditations on disquieting themes. . . . Without pedantry or obfuscation, Wier's lines cohere into a philosophical discourse about the poet's relationship with the world."
–Publisher's Weekly
"Wier's book of poems defy convention in ways that are surprising... she seems to privilege the musicality of language above a poem's content throughout the book, and in these moments, the senselessness (and speechlessness) of loss is finally voiced."
–Lani Yu
"The book that made the biggest impact on me this year was Dara Wier's In the Still of the Night. The poems in this book are powerfully grief-stricken, yet they convey such a sense of the expansive possibilities of the imagination and poetry, that the grief becomes a source of inspiration. The austerity never tips into piousness and is in fact sometimes offset by a life-affirming goofiness. In these profoundly retrograde times, it is deeply gratifying to see poetry not as a cudgel but a light."
–Dean Young
---