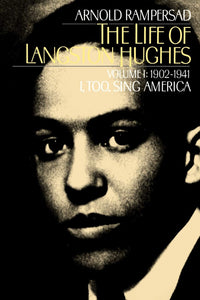 The Life of Langston Hughes: Volume 1: 1902-1941, I, Too, Sing America
Regular price
$21.50
$0.00
Unit price
per
Author: Arnold Rampersad
Publisher: Oxford University Press (2002)
February 1, 2002 marks the 100th birthday of Langston Hughes. To commemorate the centennial of his birth, Arnold Rampersad has contributed new Afterwords to both volumes of his highly-praised biography of this most extraordinary and prolific American writer.

In young adulthood Hughes possessed a nomadic but dedicated spirit that led him from Mexico to Africa and the Soviet Union to Japan, and countless other stops around the globe. Associating with political activists, patrons, and fellow artists, and drawing inspiration from both Walt Whitman and the vibrant Afro-American culture, Hughes soon became the most original and revered of black poets. In the first volume's Afterword, Rampersad looks back at the significant early works Hughes produced, the genres he explored, and offers a new perspective on Hughes's lasting literary influence.

Exhaustively researched in archival collections throughout the country, especially in the Langston Hughes papers at Yale University's Beinecke Library, and featuring fifty illustrations per volume, this anniversary edition will offer a new generation of readers entrance to the life and mind of one of the twentieth century's greatest artists.
---