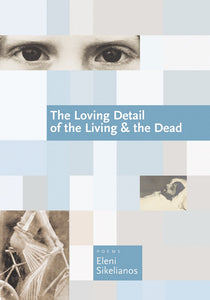 The Loving Detail of the Living & the Dead
Regular price
$15.95
$0.00
Unit price
per
Author: Eleni Sikelianos
Publisher: Coffee House Press (2013)
The Loving Detail of the Living & the Dead inhabits the collisions, sometimes at the atomic level, sometimes at the level of the preposition, between past, present, and future. Doppelgangers, family, friends, and a semi-oracular figure named Charlene move between worlds, shifting forms in an overlapping arrangement of time and memory, as each organ, atom, and word casts its traveling shadow across the screen.
"Sikelianos' gift has always been for place and the particular. In her extraordinary new collection she conjures a sympathetic magic for the quick and the dead. This mid-territory where language and disappearance are forever turning and returning is explored and surveyed in loving detail. These poems offer consolation for our American predicament here and now where 'the body picks up its shadow like a baby and carries it home.'"
–Susan Howe
"I turn to Eleni Sikelianos' poems when the drastic gracelessness of capital has me in gridlock. And I do find grace here, along with a tender ear for the lush equivocation of all the naming we do. The feeling is sanguine and open. All of language's fragility is permitted. Why grace? It's the ethics of the recognition of an other. Why equivocation? It's the lived rhetoric of compassion. Around these charged and vital foci, each poem swings in elliptic wilderness. For Sikelianos, the poem's time is motion, vibrating and trans-corporeal."
–Lisa Robertson
---