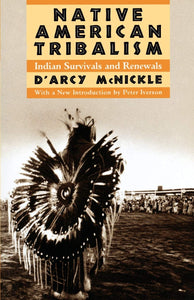 Native American Tribalism: Indian Survivals and Renewals
Regular price
$39.95
$0.00
Unit price
per
Author: D'Arcy McNickle
Publisher: Oxford University Press USA (1993)
Contrary to the white man's early expectations, the Indian tribes of North America neither vanished nor assimilated. Despite almost 400 years of contact with the dominant—and usually domineering--Western civilization, Native Americans have maintained their cultural identity, the size, social organization, and frequently the location of their population, and their unique position before the law. Now brought up to date with a new introduction by Peter Iverson, this classic book reviews the history of contact between whites and Indians, explaining how the aboriginal inhabitants of North America have managed to remain an ethnic and cultural enclave within American and Canadian society from colonial times to the present day.
The late D'Arcy McNickle—renowned anthropologist and member of the Flathead Tribe of Montana—shows that while Native Americans have always been eager to adopt the knowledge and technology of white society, they carefully adapt these changes to fit into their own culture. Iverson's introduction discusses McNickle's singular contribution to Native American Studies, and provides an overview of recent events and scholarship in the field.
With its comprehensive coverage and unique perspective, the new edition of "Native American Tribalism" is essential reading for those who want to understand the past and present of our first Americans.
---