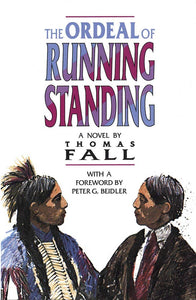 The Ordeal of Running Standing
Regular price
$14.95
$0.00
Unit price
per
Author: Thomas Fall
Publisher: University of Oklahoma Press (1993)
Running Standing is a Kiowa born too late to feel himself truly Indian. Driven by his own bitter ambitions, he becomes Joe Standing and cynically joins the conniving whites―hoping to beat them at their own game.
Meanwhile, Standing's Cheyenne wife follows a different dream. While Joe heads further east after his six years at the Carlisle Indian School, Sara returns home to teach her people the skills necessary to compete in the white world. She is making slow progress when Joe returns with authorization to buy up the mineral rights to Indian lands.
In the end, hunted and wounded and outsmarted at every turn, Joe regains his manhood on the old Kiowa Glory Road. His revenge brings this driving tale of love and adventure to a savage and shocking but inevitable climax.
Set in Oklahoma early in the twentieth century, The Ordeal of Running Standing vividly dramatizes the dilemma of two young Indians caught between two worlds.
---