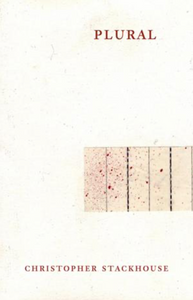 Plural
Regular price
$14.00
$0.00
Unit price
per
Author: Christopher Stackhouse 
Publisher: Counterpath Press (2012)
Plural is an experiential immersion in the daily life of an artist, arts critic and poet who weaves and juxtaposes aesthetic ideas, personal circumstances, philosophical questions, and societal situations while aggressively experimenting with poetic form and content. Stackhouse's interest in turning basic descriptions of everyday objects and mental images into caustic, claustrophobic, lyrical address is present in much of this collection. The prose poem "Short," a compressed narrative that recalls a perfunctory day of activity that includes an egg and toast breakfast, pornography, beer, and walking a dog, reveals highly self-aware attention to the dramatic closeness of thought, physical action, language and visuality. Plural also comprises poems made from direct transcriptions of notes taken at lectures given by philosophers Alain Badiou and Arthur Danto, as well as text appropriations and references to musicians J. S. Bach, Bill Dixon, and John Cage. Plural offers radically individual attempts at human communication and communion.

"This is a beautiful book, full of syntactical surprises and verbal juxtapositions such as one only finds in the most adventurous and exciting poetry. If the range of reference in these poems is astonishing, so is the achievement that places this work within that small, but vital company of poets whose visual sensitivity and sublime ears are informed not only by literary convention but also by long practice in creative disciplines in addition to literature. This work s originality is startling, and its artistic context might be hard for some readers to grasp. That s a good thing, but if we must have reference points, let us go to writers like Jean Arp, Pierre Reverdy, Cecil Taylor, or Russell Atkins. If we allow ourselves to think in those terms, we will then discover that, with Christopher Stackhouse, we have a literary artist who draws from a special discipline and toolkit all his own as he works to make the aural and the visual serve the ends of language."
–Geoffrey Jacques

"Stackhouse's poetry is efficient and particular as the wind, isolated and generous as a mailbox, sloping into a dense beautiful fog, pushed against a painted lense, listing description towards the pleasure of making things, possible as a pair of shoes, planting images inside ordinary transactions, thought as tuning fork, smoking a special cigarette, bound in a line that ascends or descends depending on how you look at it, noting foot traffic, filtering multiple dictions to register heavy sets of conditions. . . ."
–Anselm Berrigan
---