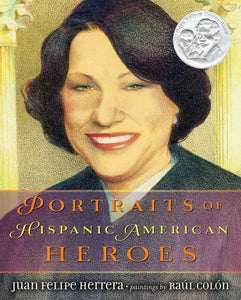 Portraits of Hispanic Americans Heroes (Hardcover)
Regular price
$19.99
$0.00
Unit price
per
Author: Juan Felipe Herrera 
Illustrator: Raul Colón
Publisher: Dial Books (2014)
An inspiring tribute to Hispanic Americans who have made a positive impact on the world.

This visually stunning book showcases twenty Hispanic and Latino American men and women who have made outstanding contributions to the arts, politics, science, humanitarianism, and athletics.  Gorgeous portraits complement sparkling biographies of Cesar Chavez, Sonia Sotomayor, Ellen Ochoa, Roberto Clemente, and many more. Complete with timelines and famous quotes, this tome is a magnificent homage to those who have shaped our nation.

In this volume: Adelina Otero-Warren, Bernardo de Galvez, Cesar Chavez, David Farragut, Dennis Chavez, Desi Arnaz, Dolores Huerta, Ellen Ochoa, Helen Rodríguez Trías, Hero Street USA, Ignacio Lozano, Jaime Escalante, Joan Baez, Judy Baca, Julia de Burgos, Luis Alvarez, Rita Moreno, Roberte Clemente, Sonia Sotomayor, and Tomas Rivera.
---