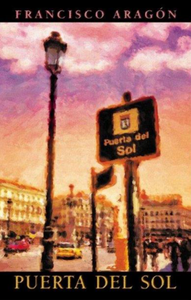 Puerta Del Sol
Regular price
$13.00
$0.00
Unit price
per
Author: Francisco Aragón
Publisher: Bilingual Review Press (2005)
Francisco Aragón extends the map of Latino poetry in this bilingual collection. Taking its title from the central plaza in Madrid, it chronicles an overseas journey both public and private. Life in the capital—taking in jazz at a café after dark, navigating the underground landscapes of the Metro to and from work—is interwoven with the more interior realms of loss in poems that mourn a parent, retrace the steps of a late mentor, or express the collective grief borne of terrorism. The work, in essence, inhabits a seldom explored bicultural space; for Aragón the author is also Aragón the translator, shaping with his own hand Spanish versions of all these poems, thereby embodying the years he shuttled between his native California and his adopted Spain.
"These eloquent poems of mourning and memory move deftly, as in a beautiful grave sarabande, between Spain and San Francisco, past and present, enriched by what Francisco Aragón justly calls the 'bilingual mirror' of his 'corazón.' Mono as well as bilingual readers will welcome them with admiration and pleasure."
–—Sandra M. Gilbert
"Francisco Aragón writes poetry that speaks with a quiet voice yet is rich with detail. But he also acknowledges the awkwardness of the life we all lead where, for example, the body starts unexpectedly to sweat. That he does not allow that awkwardness to move into the style itself speaks all the more for his skill."—
–Thom Gunn
---