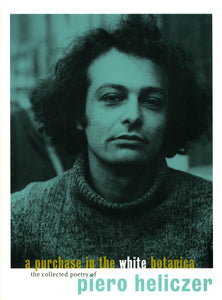 A Purchase in the White Botanica: The Collected Poems of Piero Heliczer
Regular price
$15.95
$0.00
Unit price
per
Author: Piero Heliczer 
Editors: Anselm Hollo and Gerard Malanga
Publisher: Granary Books (2001)

A Purchase in the White Botanica offers the first collected works of the poetry of Piero Heliczer, an important underground poet, filmmaker, actor (Flaming Creatures), musician (he was present in seminal jams which evolved into the Velvet Underground) and small press publisher (Dead Language Press). Adapting Apollinaire's ambulatory present-tense notations to the postwar landscapes of London and New York, and projecting them through a delicate and humorous sensibility, Heliczer fashioned some of the greatest poems of the 1960s and 1970s. 
The book includes poems from Heliczer's college days at Harvard as well as his published books, among which are & I Dreamt I Shot Arrows in My Amazon Bra (1959) and The First Battle of the Marne (1962), both of which were printed and published by his own press, and The Soap Opera (Trigram, 1967). A Purchase in the White Botanica is supplemented with an extensive illustrated biographical interview with Heliczer's half-sister Marisabina Russo-Stark, conducted by Gerard Malanga, and a foreword by Anselm Hollo.
Heliczer's lyrical works incorporated classical notions of poetry combined with radical breaks in structure. The pieces explore the page itself, recreating spelling and placement of words to create "sheer visual clarity" in meaning and form. Heliczer blends abstract or "atmospheric" images to create an almost religious notion of poetry and life (Heliczer chose not to separate the two). The works move easily from throughout Europe and the United States, mirroring Heliczer's own roaming nature. He was featured 20 years ago in Dennis Cooper's Little Caesar #9 in a 200 page festschrift compiled by Gerard Malanga and long out of print.
---