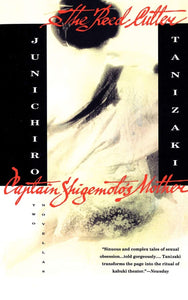 The Reed Cutter & Captain Shigemoto's Mother: Two Novellas
Regular price
$11.00
$0.00
Unit price
per
Author: Junichiro Tanizaki
Translator: Anthony H. Chambers
Publisher: Vintage International (1995)
With a precision and brilliance unmatched perhaps by any other novelist of the twentieth century, Junichiro Tanizaki interweaves a sense of his country's deep past with the kind of pathologies and obsessions we are likely to think of as modern. Here, in two eerie and beautiful novellas, he displays this skill at its most elegant and affecting.
 
The Reed Cutter has a contemporary setting, though it might have taken place any time in the past thousand years. On a fine September evening, the narrator decides to make a solitary excursion to the site of an ancient imperial palace south of Kyoto, a place now lost and overgrown near the banks of a river. Musing upon old poems, passages of history, and topographical antiquities, he eventually finds himself among the reeds of a sandbar sipping sake from the bottle he has brought with him, watching the moon rise over the river, and scribbling bits of verse in his notebook. Suddenly he is surprised to discover that he is not alone. A strange man joins him and begins to tell a most extraordinary tale about his father, about a scene glimpsed in a moonlit garden forty years before, and about a mysterious woman who has become a lasting obsession.
 
Captain Shigemoto's Mother is more violent but no less strange. It takes place in tenth-century Kyoto, in a world in which poetry and brutality, power and sexual impulse, shape the lives of the courtiers. Beginning in an almost whimsical vein with an account of the amorous exploits of a Heian Don Juan called Heiju, it gradually shifts mood to focus on three people—Shihei, the powerful Minister of the Left; his doddering uncle Kunitsune; and Kunitsune's ravishing and much-younger wife, a woman known only as Shigemoto's mother. How Shihei succeeds in taking Kunitsunes' wife away from him in the course of a bizarre and drunken party is a story as shocking—and memorable—as anything Tanizaki ever wrote.
---