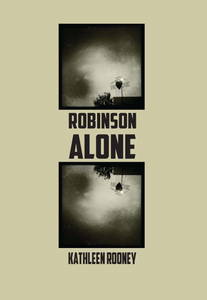 Robinson Alone
Regular price
$12.95
$0.00
Unit price
per
Author: Kathleen Rooney
Publisher: Gold Wake Press (2012)
Meet Robinson, the protagonist of Kathleen Rooney's brilliant novel-in-poems Robinson Alone. Conjured up by Weldon Kees and set loose in an urban landscape, Robinson reflects and refracts mid-century American kitsch, optimism, and despair. 'What do you / think the post-war world will be like?' he asks, via Rooney's revisions and erasures of Kees' own letters. Lyrical and detailed, precise and ornate, Rooney's genre-bending text showcases an obsession with literary history. At once repulsed by Midwestern provincialism and fearful of urban excess, 'There's still as much of yesterday / as there is of tomorrow in all he does today.'"
–Carol Guess

"Kathleen Rooney is one of the best writers of her still youthful generation. Whether working in memoir, essay, fiction, or verse, she writes in a style that is strikingly original and immediately recognizable for the high-spirited energy of its surface and an undertow of emotion that is sometimes elegiac. Even when part of the art in this book is that of the ventriloquist, both of these qualities can be found in Rooney's Robinson poems, a sustained work based on her long engagement with the poetry of Weldon Kees. Kees was for a long time a poet's poet for a generation now itself growing old, so it is a fine thing to have his signature character examined and re-animated by a young poet as good as Rooney is."
–John Matthias

"Kathleen Rooney's Robinson Alone is a blood brother to the historical novel. She reminds us that epic stories started with the poem, and she does the tradition proud with her formal flexibility and attention to detail. Her poems 'photograph the obscure,' uncovering a lost treasure in Weldon Kees, who apparently is alive and well, living between these pages."
–A. Van Jordan
---