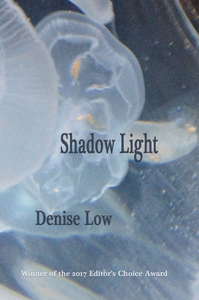 Shadow Light
Regular price
$18.95
$0.00
Unit price
per
Author: Denise Low
Publisher: Red Mountain Press (2018)
"The natural elements are honored and reclaimed in all their vital glory in Denise Low's Shadow Light. Water, land, wind, and language rise up and dazzle. Low splinters syntax and line to signal presence, absence, spirit, and light. These are also elegiac poems for a father, sister, and grandparents, and gloss the history and resilience of the Lenape, Cherokee, Cheyenne, and Kiowa people. Low translates nature into human song and back again. This is a riveting and urgent collection by an accomplished poet, who courts a hummingbird so that we may witness it 'bullet dive' and open a portal into another world."
–Hadara Bar-Nadav

"Denise Low's Shadow Light extends her poetics to the realm of natural magic: Lyric embedded with Story. History embedded with Myth. English challenged with Native languages. Imagery enriched with Sound. Pop Culture meshed with ritual Culture. The built Environment genuflecting to the natural Environment. Shadow Light is masterful poetry by an accomplished poet; this is poetry I wish I had written myself."
–Jeanetta Calhoun Mish

"Denise Low's Shadow Light deals with sight, appearances, and apparitions. Shades slide through layers of history, layers of earth, sidewise in a single line, 'peripheral twilight / black-and-white lexicon / flicker flit freeze.' Low conveys liminal perceptions by leaving enough unsaid. In these painterly poems, physical features emanate tones and patterns. Shadow Light is brilliant—don't miss it."
–Joseph Harrington

"Shadow Light is a sweep of polarities—life / death, past / present, upheaval / peace. This spot-on writing casts variegated light on our world—flycatchers, curlew, little people, opossum—and other travelers of day and night."
–Diane Glancy
---