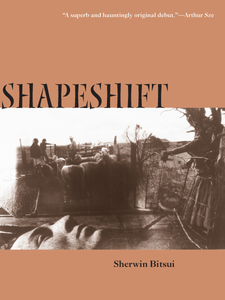 Shapeshift
Regular price
$16.95
$0.00
Unit price
per
Author: Sherwin Bitsui
Publisher: University of Arizona Press (2003)
"Fourteen ninety-something, / something happened / and no one can pick it out of the lineup . . . "

In words drawn from urban and Navajo perspectives, Sherwin Bitsui articulates the challenge a Native American person faces in reconciling his or her inherited history of lore and spirit with the coldness of postmodern civilization.

Shapeshift is a collection of startling new poetry that explores the tensions between the worlds of nature and man. Through brief, imagistic poems interspersed with evocative longer narratives, it offers powerful perceptions of American culture and politics and their lack of spiritual grounding. Linking story, history, and voice, Shapeshift is laced with interweaving images—the gravitational pull of a fishbowl, the scent of burning hair, the trickle of motor oil from a harpooned log—that speak to the rich diversity of contemporary Diné writing.

Tonight, I draw a raven's wing inside a circle
measured a half second
before it expands into a hand.
I wrap its worn grip over our feet
As we thrash against pine needles inside the earthen pot.

With complexities of tone that shift between disconnectedness and wholeness, irony and sincerity, Bitsui demonstrates a balance of excitement and intellect rarely found in a debut volume. As deft as it is daring, Shapeshift teases the mind and stirs the imagination.
---