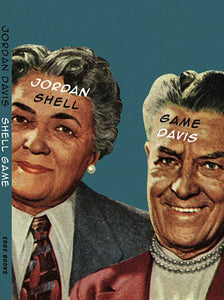 Shell Game
Regular price
$18.00
$0.00
Unit price
per
Author: Jordan Davis
Publisher: Edge Books (2018)
The first collection in fifteen years from a poet whose first book Stephanie Burt called "very personal, very appealing," Shell Game by Jordan Davis presents a series of puzzles of feeling and mazes of history where the person speaking disappears into the world, and vice versa, without warning.

Starting against the backdrop of New York in 2001 and working back to the words that came into the English language during World War II, Jordan Davis's second book teleports to Turkey in the middle of the century in a series of poems reimagining the work of Orhan Veli Kanik as a New York School poet, then returns to reflect on the precarious present in which everything is at incredible risk, and trying to laugh about it.

In addition to "My Orhan Veli," Shell Game includes the sparkling long poems, "When I Was the Subject," "A Million Random Digits" and "The Throat," critical digressions on copyright, several brutal short poems, and at opposite ends of the book, two quantum-entangled baffling sequences about . . . quantum entanglement and bafflement, what else?
"As demonstrated throughout the irreverent jocularity and punchy aggressiveness of Shell Game, Jordan Davis in general, has a lot in common with someone like the Canadian-born Donato Mancini: their toolboxes include clowns, memes, Gameboys, and meta-Flarf, middlebrow Conceptual Writing hijinks."
–Tyrone Williams
---