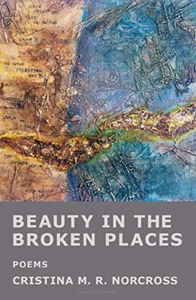 Beauty in the Broken Places
Regular price
$14.00
$0.00
Unit price
per
Author: Christina M.R. Norcross
Publisher: Kelsay Books (2019)
"Cristina Norcross has gifted us a book of poems about the body and the body's always singular beauty. These large-hearted poems hold space for pain, and love, for the brilliance of stars and the softness of a woman's tender belly. Again and again, she reassures us, 'You deserve to exist here,' her message both simple and profound. Equal parts healing, joy, and fierce reclamation, Beauty In the Broken Places reminds us that to be broken is to be broken open, a blessing."
–Sarah Sadie
"The poems in Beauty in the Broken Places are like reassuring offerings to all of the varied ruptures of human existence. Norcross offers the embodiment of the Divine in both real and ethereal ways, and how it manifests itself through the mind, body, and the soul. These poems remind us of the beauty that is inherent in not only what we are fortunate enough to have, but what we must relinquish, naturally, through the natural and inevitable passage of time in our lives. These poems are a triumph of the feminine spirit and a lodestar for the modern human condition."
–Michelle Reale
"These poems pulse with the dappled light of hope. They spin optimism into the vacuum left when compassion departs, weave threads of smoke from our past into wings of peace. We are left with the sense that the melodies of life will outlast the sorrows."
–Ruth Bavetta
---