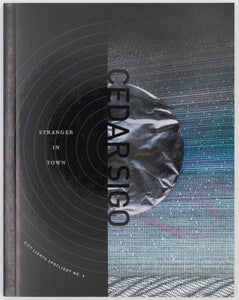 Stranger in Town
Regular price
$13.95
$0.00
Unit price
per
Author: Cedar Sigo
Publisher: City Lights (2010)
The fourth installment of the Spotlight poetry series, Stranger in Town is the second full-length collection by San Francisco poet Cedar Sigo. Reflecting queer identity while eschewing all clichés, Stranger in Town exudes an urban mysticism redolent of the SF Renaissance—particularly John Wieners—as it collages the fragmented experiences of contemporary culture.
"The poems of Stranger in Town have an elegant lyric energy that attracts attention. The 'I' is not sentimentally loving its kitten, but clear in city light and night . . . a sort of Isherwood/Wieners, literate and humorous, with a Lunch Poems gaze. And 'The Sun' is one of the clearest statements of a poetics since 'Personism.' One of the now-rare pleasures of poetry is looking forward to more by a writer: I do so for Cedar Sigo."
–Tom Raworth
"In Stranger in Town, carefully placed exclamation points reveal the contents of a boyhood closet. A shock of capital letters pay homage to magicians Spicer, Wieners, and Rimbaud. An ambling line conjures Charles Olson done up in a little bit of drag. Themes of love, ecstasy, darkness, and light are wrestled away from sentimental tourists and into the arms of Cedar Sigo, resident genius of this rare, honest romance."
–Lisa Jarnot
"A reality made of poetry is all one could ask for, and here it is-created of skillful, elegant, lyric moments and lines. A door opens to a light, fluent room, where narratives of 'urban mysticism' are pursued. An ear moves from 'professional music' to the sound of melting snow. Poems that breathe with a forthright intimacy."
–Joanne Kyger
---