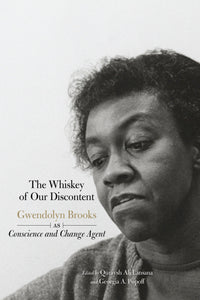 The Whiskey of Our Discontent: Gwendolyn Brooks as Conscience and Change Agent
Regular price
$18.00
$0.00
Unit price
per
Editors: Quraysh Ali Lansana and Georgia A. Popoff 
Publisher: Haymarket Books (2017)
But each time I read Miss Brooks, each time I revisit her poems, they climb up on my knees and sit in tight contentment. They speak to me of form and color, patterns and dawns. They talk of myths; they tell me where flesh lives, where a troop of young heroes and sheroes lean back in chairs, "beautiful. Impudent. Ready for life." Where the young "Live not for battles won. / Live not for the-end-of-the-song. / Live in the along."
–Sonia Sanchez, from the Foreword
The first Black woman to be named United States poet laureate, Brooks's poetry, fiction, and social commentary shed light on the beauty of humanity, the distinct qualities of black life and community, and the destructive effects of racism, sexism, and class inequality.
A collection of thirty essays combining critical analysis and personal reflection, The Whiskey of Our Discontent presents essential elements of Brooks's oeuvre—on race, gender, class, community, and poetic craft, while also examining her life as poet, reporter, mentor, sage, activist, and educator.
---