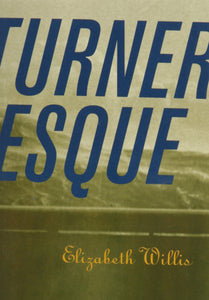 Turneresque (Signed)
Regular price
$20.00
$0.00
Unit price
per
Author: Elizabeth Willis
Publisher: Burning Deck (2003)
The title plays off the style of J. M. W. Turner's paintings and media mogul Ted Turner's revival of B-cinema as two competing versions of the sublime. Like Turner's painting, the book embraces both figuration and abstraction. It can be read as repeated acts of 'turning"—between visuality and sound, lyric and narrative tension, the sheen of popular icons and the shadow of literary obscurity, the celebrated and the invisible worlds.

Each of the three anchoring sections of prose poems engages in a dialogue with aspects of visual composition: with Turner and other artists, with film, or with the "moving picture" of American culture as framed by the car window. The lyric sections are composed as counterpoint.

"What drives Willis's incisive commentary into stunning poetry are her gorgeous lines.... Despite a distinctly noir atmosphere and the unsettling quality that always attends the sublime, Turneresque comes off as affirmative, even jocularly courageous. It seems—to borrow one of its own phrases—'to imply or intone whole possibility of human sun.'"
–Cole Swensen
---