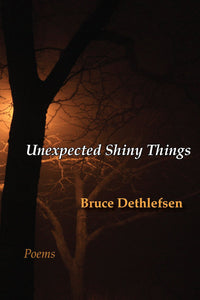 Unexpected Shiny Things
Regular price
$16.00
$0.00
Unit price
per
Author: Bruce Dethlefsen
Publisher: Cowfeather Press (2011)
In his second, full-length collection, poems of innocence and experience take readers from the schoolyard to the trout stream, from birth to death. Dethlefsen's familiar, folksy voice acquires new depth and darkness.

As Max Garland notes, "there's clarity that's not to be confused with naiveté or simplicity." Dethlefsen chooses to speak in a plain voice that makes room for the lyrical in these poems, using a common vocabulary and an understated tone of voice. While his previous collections have hinted at darker tints to life, this book allows the darkness its due, paying attention to death, to loss, to grief, and to anger. The people in this book, including the poet/speaker, are conflicted and multi-dimensional: failing, trying again, and, in the meantime, loving as best they can.
W.E. Butts praises the balance of the "elliptical, conversational, playful, and serious," in Dethlefsen's poems. The shifts in voice, using song, pun, and rhyme by turn, bring the reader closer to the heart of the book and then playfully, skittishly, evade and deflect the attention. It is by what he leaves out, as much as what he says, that Dethlefsen expresses the inexpressible.
The terms which spring to mind on reading Bruce Dethlefsen's poems, tenderness, kindness, gentleness, aren't words we're used to hearing in relation to contemporary poetry. These poems have a wide scope and a lot of give. They're tough enough to admit how fragile they—and we—are. And they whisper whatever you are feeling, whatever you are going through, you are not alone. You are not alone. Together, these poems lead us to, in Garland's words, "a redemptive vision of the world around us."
---