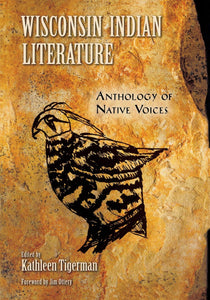 Wisconsin Indian Literature: Anthology of Native Voices
Regular price
$29.95
$0.00
Unit price
per
Editor: Kathleen Tigerman
Publisher: University of Wisconsin Press (2006)
Contributors: John V. Satterlee, Menominee, Ada Deer, Menominee; Red Bird, Ho-Chunk; Mountain Wolf Woman, Ho-Chunk; Jim Funmaker, Ho-Chunk; Nick Hockings, Lac du Flambeau Ojibwe; Eddie Benton-Banai, Lac Courte Oreilles Ojibwe; Patty Loew, Bad River Band Ojibwe; Denise Sweet, White Earth Ojibwe; Chief Menominee, Potawatomi; Shawequet, Potawatomi; Thelma Cornelius McLester, Oneida; Roberta J. Hill, Oneida; Konkapot, Housatonic Tribe of Mohicans; Dorothy W. Davids, Stockbridge-Munsee; Cathy J. Caldwell, Stockbridge-Munsee; Jim Ottery, Brothertown; Samson Occom, Mohegan
Literature of the Indian Nations of Wisconsin is a unique anthology that presents the oral traditions, legends, speeches, myths, histories, literature, and historically significant documents of the current twelve independent bands and Indian Nations of Wisconsin. Kathleen Tigerman sought input from tribe elders and educators to provide an accurate chronological portrait of each nation, including the Siouan Ho-Chunk; the Algonquian Menominee, Ojibwe, and Potawatomi; and three groups originally from what is now New York State: the Iroquoian Oneida, the Stockbridge-Munsee band of the Mohican Nations, and the Brothertown Nation.
Some of these works refer to very ancient times–more than six thousand years ago–and others are contemporary. These pieces focus on issues of Wisconsin Native communities by sharing Native knowledge and dialogue about sovereignty, decolonization, cultural genocide, forced removals, assimilation, and other concerns.

This anthology introduces us to a vivid and unforgettable group of voices, enhanced by many maps, photographs, and chronologies. Literature of the Indian Nations of Wisconsin fosters cross-cultural understanding among non-Native readers and the people of the First Nations.
---