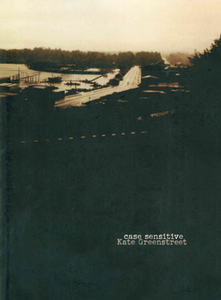 Case Sensitive
Regular price
$16.00
$0.00
Unit price
per
Author: Kate Greenstreet
Publisher: Ahsahta Press (2006)
Greenstreet's highly original Case Sensitive posits a female central character who writes chapbooks that become the sections in this book. "What happens in the book I want to read?" Greenstreet asked herself. "And how would it sound?" Everything the character is reading, remembering, and dreaming turns up in what she writes, duly referenced with notes. Using natural language charged with concision and precise syntax, Greenstreet has created a memorable and lasting first collection.
"A poem intrigue of the highest order. Greenstreet has made a brilliant beginning with this first book"
–Kathleen Fraser
"A beautiful dwelling of ideas. Case Sensitive suggests that there need be no divide between the associative connections of poetry and the extended thinking of the essay. This is a book full of luminous footnotes, details, and attentive readings. Case Sensitive strings together a series of moments to create something resonate, large, and inclusive"
–Juliana Spahr
---