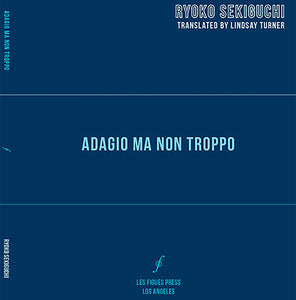 adagio ma non troppo
Regular price
$17.00
$0.00
Unit price
per
Author: Ryoko Sekiguchi
Translator: Lindsay Turner
Introduction: Sawako Nakayasu
Publisher: Les Figues Press (2018)
Ryoko Sekiguchi takes the letters Fernando Pessoa wrote his would-be fiancée Ophelia Queiroz as her subject matter in adagio ma non troppo. adagio's 36 prose blocks—appearing in Japanese, French, and English for the first time in the 2018 Les Figues Press trilingual edition—echo the 36 letters Pessoa addressed to Queiroz dated from March 1, 1920, until January 11, 1930.
Sekiguchi reconceives the Lisbon Pessoa and Queiroz describe in their correspondence as a map over which rendezvous, affairs, and liaisons can be continued through writing. "Written words," she asks, "do they erase themselves? […] or instead do all words, once read, never disappear?" Sekiguchi superimposes objects over a landscape where names carry shapes, directions, and the places to which they refer. In her Lisbon, a chair slid into daylight or set before a window punctuates time like comma in a sentence. An old couple contemplating ducks indicates a line between two points like a parasol taken from its stand announces a departure. As love establishes boundaries and relationships between people, if our objects convey our love for one another, then Sekiguchi traces the paths and perimeters lovers leave behind.
Originally published in a bilingual edition containing Sekiguchi's self-translation into the French (Le bleu du ciel éditions, 2007), adagio ma non troppo belongs in the same category as the modernist works of Franz Kafka and Pessoa—as well as the recent epistolary work of Marguerite Duras, Roland Barthes, Karl Ove Knausgaard, Maggie Nelson, and Claire-Louise Bennett—writing as a philosophic and aesthetic act that reshapes our notions of time, space, translation, and love.
---