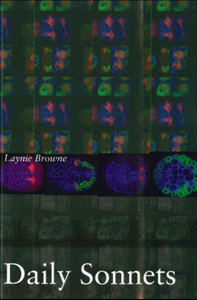 Daily Sonnets
Regular price
$15.50
$0.00
Unit price
per
Author: Laynie Browne
Publisher: Counterpath Press (2007)
In Daily Sonnets, Laynie Browne charts new territory as she subtly investigates the daily influxes of the poetic moment. From longing for the family in the very midst of the family, to the play of the mind which mimics and shepherds the visible games of children, Browne offers here the mimesis of the possible, a moving reflection of action and intimacy, a letting go and a grasping of the poetic and the political, all in the firm hold of song.
"A stunner and a delight, a heady dose of pure oxygen."
–Ron Silliman

"Quite possibly the purest poetry I have read in ages, by which I mean that it really is poetry, happening on the page, as close to unaware of itself as I can imagine a poet ever approaching."
–Charles Alexander

---