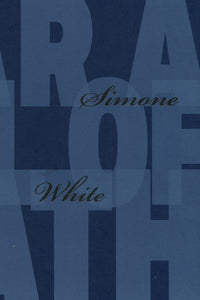 Dear Angel of Death
Regular price
$18.00
$0.00
Unit price
per
Author: Simone White 
Publisher: Ugly Duckling Presse (2018)
Half poems, half prose, Dear Angel of Death braids intimate and public thinking about forms of togetherness. Is one woman a mother, a person in an artworld, a "black"? What imaginary and real spirits are her guides? The title essay proposes disinvestment in the idea of the Music as the highest form of what blackness "is" and includes many forms: philosophical divergence on the problem of folds for black life, a close reading of Nathaniel Mackey's never-ending novel From a Broken Bottle Traces of Perfume Still Emanate, and an impassioned defense-cum-dismissal of contemporary hip hop's convergence with capitalism.
"[White] brings to her writing a range of legal, political, literary, lyrical, and lived knowledge, along with an incisiveness marked by candor and care."

–Maggie Nelson
"I get this pinwheel relationship to wisdom & history when I read Simone White. I'm in her dream, but it's a remarkable solidly packed one informed by the quotidian rarity of for instance a prose disquisition on lotion and skin and haircare especially in winter. Like Dana Ward's, her work sends me searching…"

–Eileen Myles
"Probing the relationship between blackness and displacement, White... concludes that the creation of a personal identity does not happen in a melting pot, but rather in a compressor. As she slips in and out of forms, dialects, and registers, White demonstrates that various cultural influences collide in a single individual, producing an ever-shifting foundation."

–Publishers Weekly
---