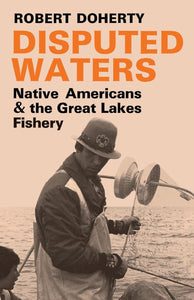 Disputed Waters: Native Americans and the Great Lakes Fishery (Hardcover)
Regular price
$24.00
$0.00
Unit price
per
Author: Robert Doherty
Publisher: University of Kentucky Press (2014)
This disturbing study of the struggle of the Chippewa and Ottawa Indians for traditional fishing rights in the Great Lakes raises legal and public policy questions that extend far beyond that region. Who owns common-property resources in the United States? Who should manage those resources and for whose benefit? Should Native Americans be accorded rights which supersede those of other citizens and restrict their economic and recreational opportunities? Can federal courts successfully resolve conflicts over resource allocation?
In the pages of this book Robert Doherty follows the conflict from the 1960s, when Native Americans renewed their struggle to maintain their treaty rights, through to the confrontations that persist to this day. During the 1970s the Chippewas of Michigan's Upper Peninsula, through federal court decisions, secured recognition of Native American rights to fish without state control. An ugly campaign of protest ensued, with vigilante groups and local police attempting to intimidate Chippewa and Ottawa fishermen. With the help of the Reagan administration, Michigan officials eventually circumvented the courts and regained a large measure of their former power in a negotiated agreement.
Robert Doherty writes about these events with knowledge gained from documentary and media sources and from firsthand experience. He has been in the courts and on the beaches where confrontations took place and has interviewed many of the participants on both sides. For a while he even operated his own fishing enterprise. The result of his involvement is a provocative book, not afraid to take the side of what Doherty perceives as an oppressed minority group and to make policy recommendations to correct injustice.
---