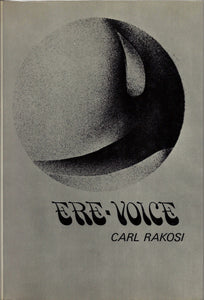 Ere-Voice
Regular price
$9.95
$0.00
Unit price
per
Author: Carl Rakosi
Publisher: New Directions (1971)
In his first collection of poetry since Amulet (1967), Carl Rakosi again probes the minutiae of everyday experience, expressing, as one reviewer has put it, an attentiveness "to the ordinary until the ordinary ceases to be so. . ." But the poetic voice—wiser and more mature, yet no less humorous or lyrical—now addresses itself with greater frequency to public issues.
Nevertheless, Ere-Voice is not weighted exclusively with the poetry of social protest in its usual sense. For in his own words, Rakosi—a leading member of the Objectivist Group that included, among others, Louis Zukofsky, Charles Reznikoff, and George Oppen—seeks primarily "to present objects in their most essential reality and to make of each poem an object. . . meaning by this, obviously, the opposite of a subject; the opposite, in other words, of all forms of personal vagueness; of loose bowels and streaming, sometimes screaming, consciousness."
"Rakosi is a major poet, one whom the Beat Generation writers read and admired for his unadorned presentation of objective reality."
–Lawrence Ferlinghetti
---