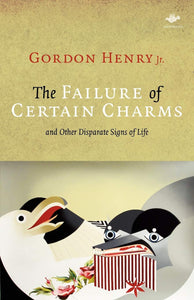 The Failure of Certain Charms and Other Disparate Signs of Life
Regular price
$16.95
$0.00
Unit price
per
Author: Gordon Henry Jr.
Publisher: Salt Publishing (2008)
This is a poetically charged work of autobiographical retrospection, speculative memory and an artistic alternative to common constructions of identity. The influences include traditional songs, ceremonial undercurrents, dream vehicles, disparate landscapes, chemical vapors, relative longings and belief in the possibility of healing again and again even after death. Some works herein are water-source clear, some are abstract meditative breaths, some are ironic dialogues with memorial humor and some are attempts to tease characters out into the open. This collection is held together by relatives, fragments, an undeniable belief in the creative force of even the slightest wisp of memory.
---