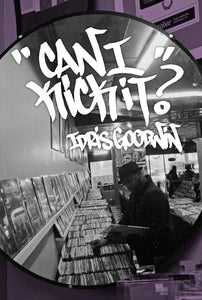 Can I Kick It?
Regular price
$16.00
$0.00
Unit price
per
Author: Idris Goodwin
Publisher: Haymarket Books (2019)
Can I kick it?
Yes you can!
–A Tribe Called Quest
Situated squarely in the oral traditions of hip-hop and BreakBeat Poetry, Idris Goodwin's work bridges the divide between the reader and the poet. Combining the tongue-in-cheek and the irreverent with the melancholy and incisive, Goodwin's poetry samples and re-purposes pop-culture—from Back to the Future to Prince, Missy Elliot to Dominique Wilkins—in order to reflect and remix the stories we tell ourselves and each other in order to live.
"Must Read Poetry."
—The Millions
"Idris Goodwin's poems are funny and searing at the same time. Goodwin is a poet of lyric precision and masterful invention. Ranging from odes to how-to guides to persona poems in the voices of DJ Khaled, Harriet Tubman, and more, Goodwin's book Can I Kick It? reads the way my favorite albums play. Read it straight through. No skips necessary."
—José Olivarez, author of Citizen Illegal
"The passion and relevance behind Goodwin's words jump off the page."
—D'Arcy Briggs, Spring Magazine
---