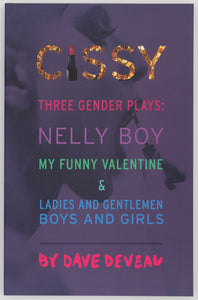 Cissy: Three Gender Plays
Regular price
$19.95
$0.00
Unit price
per
Auhtor: Dave Deveau
Publisher: Talonbooks (2020)
"Cissy" is a collection of three plays on gender and young LGBTQ+ folk by the acclaimed playwright Dave Deveau.
In "Nelly Boy," an unknown man sits in a nondescript room trying to discover how Nelly came to be running naked along the side of a six-lane highway. Nelly's world slowly unfolds; following Nelly's epic journey through suburbia, we discover the inner workings of a brilliant teenage mind trying to grapple with the greater picture. Caught in the middle of opposing gender ideals, Nelly is forced to confront hatred and his/her own perceptions of the world in order to survive.
"My Funny Valentine" examines the 2008 murder of 14-year-old Lawrence Laetitia King who asked Brandon McInerney to be his valentine. The next day, during first period, McInerney took out a gun and shot King twice in the head. On February 13, King was declared brain-dead, but was left on life support so organs could be removed for donation. King passed away on February 14, 2008 ––Valentine's Day. "My Funny Valentine" enters the minds of people on the fringes of a murder that will forever affect them. It tackles the fracturing of opinion in the face of a horrendous act within a community and invites the audience to search for its own humanity amid the confusing and chaotic implications King's death brings to the surface. In searching through this thick haze, it enables us to find our hearts.
"Ladies and Gentlemen, Boys and Girls" is the story of 9-year-old Fiona who comes out as a boy and wants to be called Fin. Fin has always had this feeling––knowing something is different but not knowing what it was or how to say it. As Fin cuts his hair short and changes his name, his family works to understand and adjust to Fin's gender identity. Dad is accepting of the change right away, but Mom doesn't quite get it at first. We see Fin's family struggle with this change and through the course of the play ultimately begin to accept and embrace Fin for who he is.
Three powerful, intensely relevant plays by "one of Vancouver's finest playwrights and one of our country's finest gay writers"
–Mark Robins
---