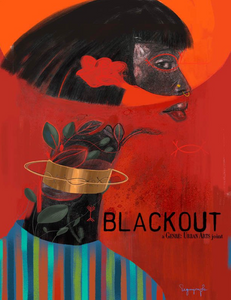 Genre: Urban Arts: Blackout
Regular price
$32.00
$0.00
Unit price
per
Editor, Curator, and Designer: Nakeysha Roberts Washington
Editor and Designer: Joseph Oluwasegun Odoyon
Publisher: Genre Urban Arts (2022)
Contributors: O'Kiins Howara, Kevin Boatright, Akindlee John, Joseph Oluwasegun Odoyon, Sisqo Ndombe, Angelita Hampton, Najah Springer, Amelia Washington, Aluu Prosper, Amari Jader, Jesse Omoghene, Katung Aduwak, and Obilala Nawankwo
"We younger [Black] artists who create now intend to express our individual dark-skinned selves without fear or shame... We build our temples for tomorrow, strong as we know how, and we stand on top of the mountain, free within ourselves."
–Langston Hughes, The Negro Artist and the Racial Mountain
Black Artists and Black creatives, this is a publication where we do what deities must—create.

We stand here on the work and love of our ancestors who push us forward and also pushes us inward to become more fully ourselves.
---